Alarm Monitoring & Control System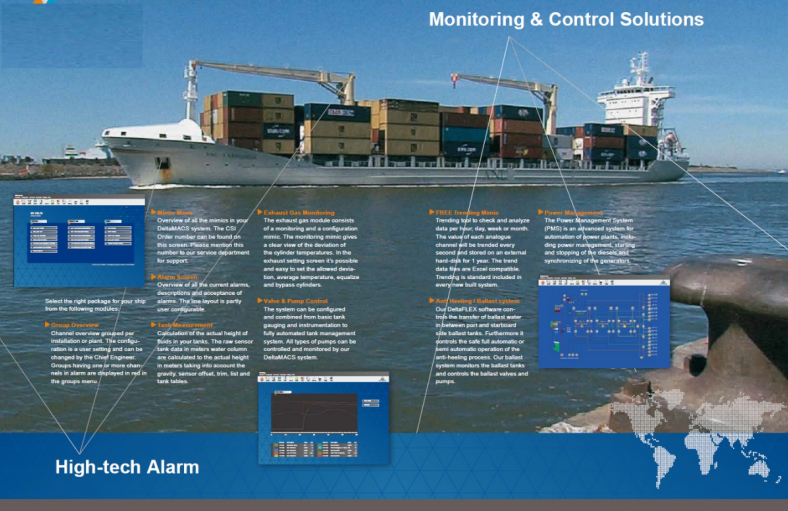 DeltaMACS
The Next Generation
High-tech Alarm, Monitoring & Control solutions for all vessels and installations. Our fully redundant DeltaMACS system is based on 45 years of experience and integrates nine independent modules that safeguard every ship's function.
Optimal flexibility
Our proven and flexible systems meet all technical and safety requirements and are used by over 3500 vessels, from cargo vessels and yachts to heavy lifters and offshore installations. We offer our customers the latest technology and tailored solutions for the best price. Our latest version DeltaMACS® The Next Generation integrates a full range of alarm, monitoring and control modules tailored to your ships needs.
All channel settings are user configurable:
• channel text
• channel colours
• delay times
• four setpoints per channel
• ranges
Continuous Upgrades
DeltaMACS software is highly flexible and can be continuously upgraded & extended to meet new requirements on board.
Great Visuals
DeltaMACS mimics offer 3D visuals of ships functions and are easy to read. Our Client Mimic Module can display customer specific mimics. Futhermore all properties, actual value and status of a channel can be displayed, such as values setpoints, bars, analogue gauges and channel texts.
Allround software
Drivers for interfacing with Caterpillar Engines, Wärtsilä WECS & LCS, MAN B&W Engines, Thorn & Tyco Fire Alarm Systems, Profibus (Siemens S7), Modbus NMEA data output to VDR Prilog logger, are all available without additional cost.
Click below for view/download product details

 Alarm Monitoring System Deltamacs