Marine Calibrators and Test Case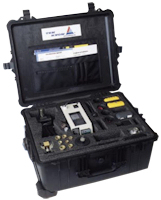 In January 1998, the International Safety Management (ISM) code was adopted by IMO and became mandatory for certain ocean going vessels.
Not later than July 1st 2002 the SOLAS, Chapter IX, and the ISM code applies to all ships, including mobile offshore drilling units.
With our test case the vessel will have the necessary calibrated test equipment according to SOLAS (Safety Of Life At Sea). We are also able to offer a periodically calibration system which helps the vessel to keep certified test equipment at any time.
Click below for view/download product details:

 Marine Calibrators and Test Case