Pressure Calibrator PC705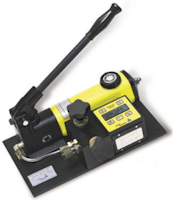 High accuracy and stability – is achieved by use of a special thin film strain gauge transducer with a built-in temperature compensation. Unlike some other pressure calibrators, accuracy is maintained when decreasing pressure which makes the unit ideal for verification of hysteresis. All units are calibrated in positive as well as in negative direction.
Compact and rugged – originally designed for use on offshore drilling rigs, the pressure calibra-tors offer reliable performance under the most severe conditions.
Portable – the low weight of only 8 kg makes the units ideal for on-site calibration.
Traceable – each unit is calibrated against precision pressure equipment which is traceable to national standards and each unit is supplied with a calibration certificate.
Automatic calibration – by use of PreCal Windows® based software full documentation and record keeping of calibrations are easily carried out.
Simple and easy – test pressure is established by the integrated hydraulic pump, and the calibration pressure is read on the graphical LCD display. There is no need for fragile reference gauges.
Click here to download product catalogue:

 Pressure Calibrator PC705