Pressure Calibrator PM105 /110L /110H Pressure Calibrator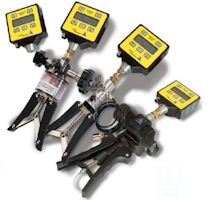 PM105 – is a self-contained portable pressure meter for commissioning, service, calibration and maintenance. The unit is light weight and ergonomically designed for field applications. PM105 is supplied with integral pressure sensor, signal-conditioning electronics, graphic display and internal battery. The PM105 can be supplied in ranges up to 1200 bar.
PM110L – for low pressure calibration. Using PM105 together with a small hand pump we offer
you a complete, portable, one-hand operated pressure calibrator named PM110L. The hand pump mounted directly on the pressure inlet of PM105 makes it possible to generate pressures from -0,8 to 40/60 Bar (G) using dry air as pressure medium. PM110L is supplied in a case with a complete kit of test hose and fittings.
PM110H – for high pressure calibration Using PM105 together with a hydraulic pump we offer
you a unique handheld high pressure calibrator named PM110H. Originally designed for use on North sea platforms, the PM110H is extremely rugged and is made for field use. Using oil or water as a pressure medium, the PM110H generates pressures up to 700 Bar (G) with accurcy of 0,03% FS. PM110H is supplied ready to use in a carrying case complete with test hose and
fittings.
Click below for view/download product details:

 Pressure Calibrator PM105 /110L /110H Pressure Calibrator